RedSands Camper Kimberley Moon Experience Package
Experience the Kimberley in style when you hire one of RedSands Campers from 19 May 2021. Head to beautiful Kununurra to attend the Kimberley's biggest music concert and highlight of the Ord Valley Muster the Aviair HeliSpirit Kimberley Moon Experience. 2021 is headlined by Jessica Mauboy and blues festival favourites Busby Marou and Indigenous singer-songwriter Emily Wurramara.
We have done all the hard work and put together a 4 day itinerary while you are in Kununurra to experience the best of the area. In addition to general admission tickets to the Aviair HeliSpirit Kimberley Moon Experience this package also includes 4 nights at Kimberleyland Holiday Park in the exclusive "RedSands Village", a day tour to the World Heritage listed Bungle Bungle by air, touch down and enjoy a guided walk through the famous Beehive Domes and Cathedral Gorge and a day cruising on the Ord River with Triple J Cruises, marvel at the spectacular scenery, wildlife, flora and fauna found along the way, including the elusive freshwater crocodile!
After your amazing stay in Kununurra venture out and explore the rest of the East Kimberley. Our friendly staff at Kimberley Experiences would be happy to assist with planning the rest of your itinerary.
Bookings
This itinerary can be modified to suit your travel needs by our friendly adventure crew.
Call us on 1800 960 991 or enquire below:
Kununurra
Kimberley Moon Experience
Guided Walk through the Bungle Bungle
Scenic flight over Lake Argyle, Bungle Bungle and Argyle Diamond Mine
Ord River Cruise
Entry to RedSands Camper Village at Kimberleyland Holiday Park
Includes hire of a standard or premium RedSands 4WD Camper – from Darwin or Kununurra
4 nights on a powered, waterfront site at Kimberleyland Holiday Park
General Admission tickets to Kimberley Moon Experience on 22nd May 2021
Scenic flights in air-conditioned comfort to the Bungle Bungle Range with Aviair
Guided walking tour to Cathedral Gorge, Domes and Piccaninny Creek with Bungle Bungle Guided Tours
Cruise up and down the awesome Ord River with Triple J tours
Exclusive access to RedSands Camper Village
Bottle of Western Australian wine
Price based on 12-day package in a standard camper. Pick up from Darwin, Wednesday 19th May 2021, Return to Broome, Thursday 30th May 2021.
Price based on two travellers. Maximum of 4 travellers per camper.
Minimum and maximum numbers apply for tours
Depending on availability, tours may be on different days
Minimum camper hire periods apply. Restrictions on pick-up and drop-off locations.
Also available for pick up from Kununurra on Thursday 20th May 2021
Contact us for 14-Day and 13-Day hire periods
Itinerary Details
19th May 2021
Pick up your RedSands 4WD Camper
Pick up your RedSands 4WD Camper from the Darwin office and commence your trip to the beautiful Kimberley town of Kununurra.
The 840km drive is picturesque too say the least. Travel through towns such as Adelaide River, Katherine & Timber Creek before reaching the WA/NT border. This is a quarantine stop so ensure you are not carrying any fruit, vegetables, planes, nuts and also honey before continuing the journey 50km to Kununurra.
You have the choice to break this trip up over two days staying at one of the great locations along the way or if you wish to complete the drive in one day, call ahead to Kimberleyland Holiday Park in Kununurra to book your additional night.
Please note: Accommodation not included on this night
20th May 2021
Arrive Kununurra
Arrive in Kununurra and check into Kimberleyland Waterfront Holiday Park. Depending on your arrival time, enjoy a meal at one of Kununurra's cafes or pubs before settling in for the evening.
21st May 2021
Bungle Bungle Wanderer
Fly in Kununurra's newest and only fully air-conditioned fleet of aircraft from Kununurra to the Bungle Bungle. This Aviair scenic flight takes you on an unforgettable adventure over the Bungle Bungle Range, Lake Argyle, the Argyle Diamond Mine and the Ord River Irrigation Area. You will also fly over the stunning Carr Boyd Ranges, Osmand Ranges, the Ord River and Bow River. Once reaching Purnululu National Park, you will land at the remote and unsealed Bellburn Airstrip, where you will be met by your tour guide and an air-conditioned 4WD bus.
From the airstrip, your guide will drive you further into the park, where you will then disembark and enjoy a guided walk throughout the famous eroded towers and black and orange banded beehive domes of the Bungle Bungle Range. This domes walk is of moderate intensity and is about 3km in distance. From here, you will follow your guide on the walk into Cathedral Gorge, where towering cliffs open up to form a space with incredible natural acoustics. Whilst in the gorge, enjoy a fresh picnic-style lunch whilst relaxing in one of the most beautiful spots in the park. After a short rest, you will walk along the creek bed of Piccaninny Creek, before returning to Bellburn Airstrip.
You will then board your return scenic flight to Kununurra, with views of the Argyle Diamond Mine along the way. Throughout the day, your total flight time will amount to two hours.
Pick up| 8.15am from Kimberleyland Waterfront Holiday Park
Drop off| approx. 5.30pm to Kimberleyland Waterfront Holiday Park
22nd May 2021
Kimberley Moon Experience
Today, get ready for the much loved and anticipated Kimberley Moon Experience, this year celebrating its 20th year of festivities. Join the owners of RedSands Campers for pre-event drinks and canapes on the lakeside at Kimberleyland Waterfront Holiday Park, before heading across the road for the big event. With general admission you have the choice to bring your own chair or relax with a picnic rug and indulge in the food from local stalls, then sit back and enjoy the music or dance the night away.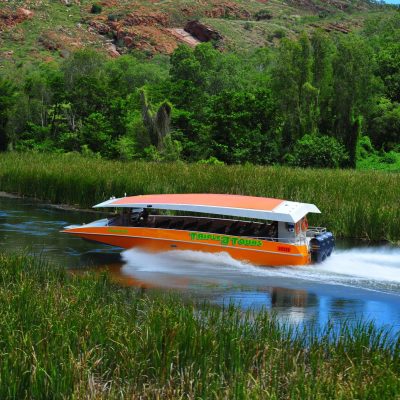 23rd May 2021
Triple J Cruise
Enjoy a relaxing morning before a coach arrives to pick you up at 11:30am and transfer you to the marina. Board your cruise from Lake Kununurra and enjoy the 55km cruise up the Ord River to the Ord Top Dam. Learn about the flora and fauna of the East Kimberley and marvel at the magnificent birdlife, Carlton Gorge and Elephant Rock.
Turnaround at the Ord Top Dam Wall and return to Kununurra, stopping for afternoon tea at a riverside camp. Watch as the colours of the gorges and ranges change colour throughout the day, before arriving back at your accommodation at approximately 5:30pm.
Check out the other Ord Valley Muster events  https://ordvalleymuster.com.au/festival-schedule-2021/
24th May 2021
Continue your Kimberley adventure
Create your own adventure for the remaining duration of your RedSands 4WD camper hire, travelling from Kununurra to your pre-determined return point. The options are endless!
If you need assistance on what to do after your stay in Kununurra, the Kimberley Experiences team would love to help you create a memorable itinerary.
Pricing
Price based on 12-day package, standard camper for two adult travellers. Pick up from Darwin Wednesday 19th May 2021, Return to Broome Thursday 30th May 2021.
$3,474 per Senior
$3,509 per Adult
Child price on application
Price below based on 11-day package, standard camper for two adult travellers. Pick up from Kununurra Thursday 20th May 2021, Return to Broome Thursday 30th May 2021
$3,280 per Senior
$3,315 per Adult
Child price on application
Contact us for pricing on 14-Day and 13-Day hire of Premium and standard campers.