5 DAY BUNGLE BUNGLE AND LAKE ARGYLE
A unique journey of discovery on this 5 day package, exploring the world heritage listed Purnululu National Park. Experience the best that Lake Argyle has to offer, from exquisite meals prepared by camp oven, to swimming in the most popular infinity pool in Australia if not the world.
Bookings
This itinerary can be modified to suit your travel needs by our friendly adventure crew.
Call us on 1800 960 990 enquire below:
Lake Kununurra
Sunset Dinner Cruise
Bungle Bungle Day tour
Lake Argyle Resort and Infinity Pool
Lake Argyle Sunset Cruise
Gourmet Camp Oven Experience
Taste of the Ord Valley
Ord River Cruise
Lake Kununurra Sunset Dinner Cruise with Kununurra Cruises
Scenic flight over Bungle Bungle with Aviair
Guided walk into Cathedral Gorge and Domes in Purnululu National Park (Bungle Bungle) with Bungle Bungle Guided Tours
Coach transfers from Kununurra to Lake Argyle
24 minute Lake Argyle helicopter flight
Sunset Explorer Cruise with Lake Argyle Tours
New "Taste of the Ord Valley" tour with Lake Argyle Adventures
Gourmet Camp Oven Experience with Lake Argyle Adventures
Ord River Cruise with Triple J Cruise
Complimentary hotel transfers
Add ons:
3 Nights accommodation at Freshwater East Kimberley Apartments – One Bedroom Apartment
PLUS
2 Nights accommodation at Lake Argyle Resort – Standard Kimberley Cabin
Price is per person
Minimum and maximum numbers apply for tours
Single Supplement available on request
Room upgrades available at additional cost at both locations
Meals and beverages are not included unless included in a tour
Itinerary Details
Once you arrive in Kununurra check into your accommodation at Freshwater East Kimberley Apartments. Located amongst beautiful tropical gardens and overlooking Celebrity Tree Park and Lily Creek Lagoon, Freshwater East Kimberley Apartments provides the ideal relaxing environment for your holiday adventure. Fully self-contained apartments with modern fittings, fixtures and décor, and large balconies allowing you to experience comfortable indoor/outdoor living in the beautiful Kimberley climate. The stunning free form resort-style pool is centrally located to all apartments and has been constructed with one of the East Kimberley's remote gorges in mind – ensuring your time by the pool is cool, relaxing and enjoyable.
In the afternoon, you will be picked up via complimentary bus transfer to the marina where you will climb on board the MV Jabiru, a purpose built vessel for your cruise, you will wind through Lily Creek and the picturesque lagoon. Great photographic opportunities will be endless during the afternoon. When you reach into the open water of Lake Kununurra, you will cruise upstream toward the Sleeping Buddha, a rock formation that can resemble a person lying down bathing in the afternoon sun. You will turn back toward the Diversion Dam Wall, a major project completed back in 1967. Appetisers will be served once you reach the sunset dinner location in Packsaddle Lagoon. Here you will soak up the tranquility of nature as you enjoy your Kimberley inspired dinner with a complimentary drink. Additional drinks can be purchased from the licensed bar.
Inclusions:
* Complimentary drink on boarding
* Nibbles, wild caught saltwater Barramundi or Threadfin Salmon, steak, salads and dessert.
* Coffee, tea & water. Informative commentary & Licensed bar.
ADD ON:
Accommodation: Freshwater East Kimberley Apartments – One Bedroom Apartment
Day 2 - Bungle Bungle Wanderer
Today your adventuring begins with a scenic flight departing Kununurra, which passes over the Bungle Bungle Range, Lake Argyle, the Argyle Diamond Mine, Ord River Irrigation Area, Carr Boyd Ranges, Osmand Ranges, Ord River and Bow River. Your aeroplane will land at the remote and unsealed Bellburn Airstrip in Purnululu National Park, where you will be met by your guide.
From here, you will be driven in an air conditioned 4WD bus to the beginning of your walk. Your guide will lead you on a moderate 3km walk throughout the famous eroded towers and beehive-shaped domes on the Domes Walk. Head towards Cathedral Gorge, where you can walk alongside towering cliffs which create phenomenal natural acoustics within the gorge.
Refuel with your pre made picnic lunch after a morning of exploring. You will then head out along the rocky creek bed of Piccaninny Creek, which only flows during periods of high rainfall. After returning to Bellburn Airstrip, you will take your return flight to Kununurra with views of the vast Argyle Diamond Mine, where rare pink diamonds are mined.
Today you will be picked up from your accommodation in Kununurra and make your way to Lake Argyle via coach transfer. Enjoy the scenic 50 minute drive along the Lake Argyle road, stopping in at the Argyle Downs Homestead Museum before arriving at Lake Argyle Resort.
Head off on your Lake Argyle Heli-picnic + swim with HeliSpirit. Fly over the Ord Top Dam Wall, Ord Hydro Station and Lake Argyle. Then soar over the Carr Boyd range and land at our secret springs waterhole. Enjoy a swim in the fresh water and a light picnic before arriving back at the resort.
On your return, check into your accommodation or the next 3 nights, have a swim in the world famous infinity pool before joining the Sunset Explorer cruise, departing from Reception at Lake Argyle Resort at 2.10pm. Experience the true diversity of the ever changing landscape of Australia's largest body of fresh water on this 3.5 hour afternoon exploration of Lake Argyle. Your adventure begins with a close up view of the main dam wall, intake structure and quarry blast site. From there, cruising through 'the Heads' leads us to the expanse of Pintpot Bay and beyond. Whilst providing informative commentary, the Skipper guides the specially designed vessel amongst numerous inlets and bays in search of local wildlife including Freshwater Crocodiles and their many nesting sites. The cruise continues out to Hagen island – the largest of more than 70 islands on Lake Argyle. Hagan Island is over 7 km long and is easily recognised by the landmark 'Mount Misery' towering over the now submerged site of the original Argyle Downs Homestead after which Lake Argyle is named. Heading west into the sunset this ancient land will mesmerize. We then stop for a refreshing swim in the tranquil waters of the 'Bay of Islands'. As the sun sets we serve a cheese platter, dips and crackers with complimentary beer, wine and soft drink. The coach returns you to Lake Argyle Resort at dusk.
Return to the resort and enjoy a delicious evening dinner at the Lake Argyle Restaurant.
ADD ON:
Accommodation: Lake Argyle Resort – Kimberley Cabin – Standard
Day 4 - Lake Argyle Adventures
The Ultimate Lake Argyle experience today starting with the Taste of the Ord Valley tour with your amazing guide Josh. Lake Argyle's newest tour explores the incredible tastes surrounding our beautiful lake. This exclusive experience focuses on bush tucker and local Ord River produce to create a morning tea that will have your taste buds singing! The adventure to your morning tea takes you down to the base of the Argyle dam and into the picturesque Ord River gorge.
Your unique morning tea includes:
Kununurra lime cheesecakes
Wild passionfruit muffins
Chia seed ANZAC biscuits
Croissants served with wild hibiscus jam and Kimberley honey
Seasonal Ord River Valley fruit
Freshly squeezed juice
Lemon myrtle bush tea
Wattleseed coffee
On top of your scrumptious morning tea you will sample bush tucker, discover Argyle history and explore some of the region's fascinating wildlife, plants and their incredible uses! If you have a passion for learning and an appetite for a delicious outback morning tea, THIS is the tour for you
Returning to the resort at around 10.30am you have the rest of the day to explore the surroundings on one of the many trails or just relax at the infinity pool or bar and restaurant.
At 4.30pm you will be met again by your larrikin guide Josh for your next amazing adventure. Getting there is all part of the fun, you will climb on board his purpose designed vehicle, whilst listening to yarns and tunes along the rugged way to your dining experience. Once at the location, you will depart the vehicle in awe of the magnificent view in front of you. Sit back and relax as the sun sets over the ranges and huge expanse of Lake Argyle while sipping on a complimentary Matso's alcoholic Ginger Beer.
The sunset transforms into a starlit sky, the perfect setting for your 3-course gourmet dinner, entree, main and dessert.
All dishes are created with an emphasis on flavour and freshness using a combination of bush tucker and locally sourced produce.
BYO drinks are welcome and ice is provided. Returning to the Resort at approximately 7.15pm
ADD ON:
Accommodation : Lake Argyle Resort – Kimberley Cabin – standard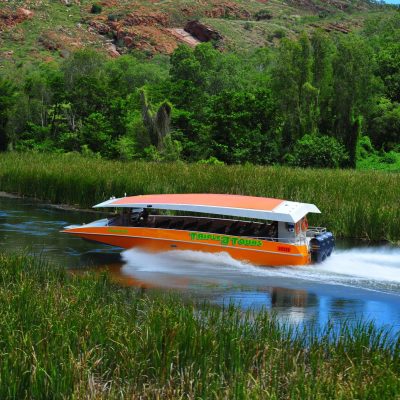 Day 5 - Ord River Cruising
Enjoy the morning around Lake Argyle. After lunch meet your Triple J coach at the resort reception. Crossing the Ord Top Dam wall, guests will see the Ord Hydro-Power Station before boarding their Triple J Tours boat for a scenic 55km cruise back to Kununurra. Marvel at the spectacular scenery, wildlife, flora and fauna found along the way, including the elusive freshwater crocodile! Enjoy afternoon tea at our riverside camp before heading back to Kununurra. Take in a colourful East Kimberley sunset before docking back at the Marina and re-boarding your coach for your accommodation drop-off at around 6.00pm.
ADD ON:
Accommodation: Freshwater East Kimberley Apartment – One Bedroom Apartment
Pricing
Excluding Accommodation
$1,836 per Senior
$1,885 per Adult
$1.577 per Child
Including Accommodation
$2,589 per Senior (Twin Share)
$2,635 per Adult (Twin Share)
$ on application
Speak to our friendly travel experts about adding an additional night and staying in the heart of Purnululu National Park for a night.