3 DAY KUNUNURRA AND MITCHELL FALLS
Experience the best of Kununurra's surroundings over a few days. Cruise on the Ord River, experience a magic sunset cruise on the huge expanse of Lake Argyle, marvel at the Kimberley Coast and the extraordinary Mitchell Falls by plane and helicopter.
Bookings
This itinerary can be modified to suit your travel needs by our friendly adventure crew.
Call us on 1800 960 991 or enquire below:
Lake Kununurra
Sunset Dinner Cruise
Mitchell Falls
King George Falls
Lake Argyle
Ord River
Kununurra
Lake Kununurra Sunset Dinner Cruise with Kununurra Cruises
Mitchell Falls Discoverer with Aviair (Full Day Tour)
Lake Argyle Sunset Tour & Ord River Tour + Riverside Lunch with Triple J Tours
Add ons:
3 Nights accommodation at Freshwater East Kimberley Apartments – One Bedroom Apartment
Price is per person
Minimum and maximum numbers apply for tours
Available from May to August
Itinerary Details
Day 1 - Lake Kununurra Sunset Dinner Cruise
Once you climb on board the MV Jabiru, a purpose built vessel for your cruise, you will wind through Lily Creek and the picturesque lagoon. Great photographic opportunities will be endless during the afternoon. When you reach into the open water of Lake Kununurra, you will cruise upstream toward the Sleeping Buddha, a rock formation that can resemble a person lying down bathing in the afternoon sun. You will turn back toward the Diversion Dam Wall, a major project completed back in 1967. Appetisers will be served once you reach the sunset dinner location in Packsaddle Lagoon. Here you will soak up the tranquility of nature as you enjoy your Kimberley inspired dinner with a complimentary drink. Additional drinks can be purchased from the licensed bar.
Inclusions:
* Complimentary drink on boarding
* Nibbles, wild caught saltwater Barramundi or Threadfin Salmon, steak, salads and dessert.
* Coffee, tea & water. Informative commentary & Licensed bar
* Complimentary transfers from your accommodation
Departs | approx.3:30pm
Returns | approx. 6:00pm
A light jacket/jumper may be required during June to August.
Day 2 - Mitchell Falls Discoverer
Departing Kununurra, this tour begins with a scenic aeroplane flight over the Ord River, Carlton Hill Station, Wyndham and the Cambridge Gulf, before reaching the coast. Along the way, you will witness stunning views of beautifully patterned mud flats, as well as the magnificent Berkeley River, King George Falls, and Kalumburu. This flight lands at the remote Mitchell Plateau Airstrip, where you will disembark and board a pristine HeliSpirit helicopter. The helicopter will transfer you from the airstrip to the beginning of the walk at the campground. You will follow your tour guide on a beautiful 4.5 kilometre hike viewing some indigenous art along the way into the stunning Mitchell Falls. This hike can be challenging at points, with uneven tracks and river crossings, so there is an option to take a helicopter transfer straight from the campground to the falls (additional $160 per person – min 2 may be required). Once arriving at the falls, you will have time to marvel at their beauty, take a swim in the Mitchell River and admire the fascinating flora and fauna of this area while enjoying a fresh picnic-style lunch. You will transfer via helicopter from the top of the falls including an orbit or two and then onto the airstrip. You will board the aeroplane for your return scenic flight to Kununurra passing over El Questro and the Cockburn Range.
What to bring: Camera fully charged & memory space, day pack, swimwear, towel,
refillable water bottle, sturdy walking/hiking shoes that can get wet, sun protective
cool clothing, hat, sunscreen, and spare pair of socks.
Departs Kununurra | May to August | Thursday and Saturday | 6:00am
Returns Kununurra | approx. 3:00pm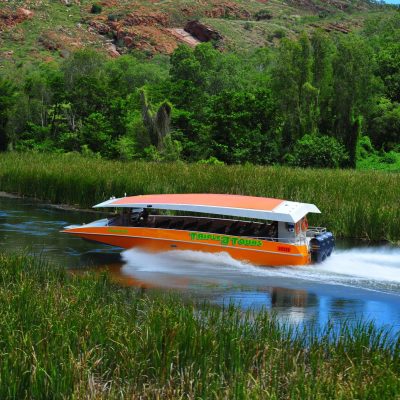 Day 3 - Lake Argyle Sunset Tour & Ord River Tour + Riverside Lunch
Combine our Triple J Tours Ord River Day Tour & Riverside Lunch (J2) with a gorgeous sunset cruise on Lake Argyle with Lake Argyle Cruises.
Be collected from your accommodation at 9.00am before boarding your Triple J Tours boat from the Marina. Cruising this spectacular waterway, you will marvel at the spectacular scenery, wildlife, flora and fauna found along the way, including the elusive freshwater crocodile! Stopping at one of our Riverside Camp's for a sumptuous buffet lunch we will then have you cruising up to the Ord Top Dam – an imposing sight when finding yourselves at its water line base on the Lake Kununurra side!  Board a coach for a drive across the Ord Top Dam before joining your Lake Argyle Sunset Cruise.
Your Lake Argyle Sunset Cruise will have you heading out to sea – an inland sea that is!  At full capacity, Lake Argyle is 21 times the size of Sydney Harbour and is known as an inland sea.  We'll cruise through 'the Heads' and enter the northern end of Lake Argyle, meeting our resident wildlife along the way.  Learn the amazing history of this magnificent lake before settling in for a swim and some complimentary nibbles, accompanied by beer or bubbly.  As the sun sets and the sky turns orange, we'll raise our glasses to an unforgettable day.
After your Lake Argyle cruise, re-board your coach for the drive back to Kununurra.
What to bring: Hat, sunscreen, bathers, towel, camera fully charged, long sleeve top
for the cool evening, refillable water bottle, change of dry clothing optional. There is a toilet on board you can change in.
Departs Kununurra | 9:00am
Returns Kununurra | 7:00pm
Option add on - Freshwater East Kimberley Apartments
One Bedroom Apartment
Located amongst beautiful tropical gardens and overlooking Celebrity Tree Park and Lily Creek Lagoon, Freshwater East Kimberley Apartments provides the ideal relaxing environment for your holiday adventure. Fully self-contained apartments with modern fittings, fixtures and décor, and large balconies allowing you to experience comfortable indoor/outdoor living in the beautiful Kimberley climate. The stunning free form resort-style pool is centrally located to all apartments and has been constructed with one of the East Kimberley's remote gorges in mind – ensuring your time by the pool is cool, relaxing and enjoyable. The pool surrounds feature Kimberley stone with cascading water, decking and BBQ facilities. The perfect place to refresh, relax and unwind at the end of your day in our spectacular region.
Part of their service involves complimentary airport transfers, as well as town transfers at 10:00am each morning. Upon check in you will receive a 10% discount to the Pumphouse Restaurant, an idyllic place to watch the magnificent Kimberley sunset over the Ord River while enjoying a drink on the balcony. Your One Bedroom Apartment has 1 queen or 2 king single beds with a maximum of 2 guests. It has a unique outdoor shower as well as an ensuite bathroom.
The staff at Freshwater look forward to welcoming you to your One Bedroom Apartment with all of the modern conveniences required during your stay.
Pricing
Excluding Accommodation
$ 2,089 per Senior
$ 2,109 per Adult
$ 1,997 per Child
Including Accommodation
$ 2,539 per Senior(Twin Share)
$ 2,559 per Adult (Twin Share)
$ on application
Single Supplement prices available on request
Upgrade room types available